About the Chorale
Chorale Bel Canto, a 501(c)(3) nonprofit educational organization operating under the laws of the State of California, is a community-based chorale that presents quality musical programming for the cultural benefit of the greater San Gabriel Valley community and provides a demanding and satisfying artistic outlet for qualified singers. The Chorale is governed by a Board of 15 singers and community members, and supports a professional staff of three.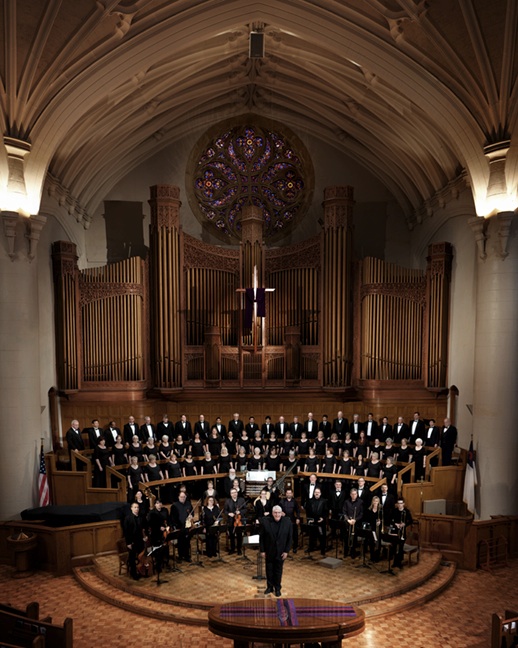 The Chorale was founded in 1982 by a group of Whittier College Choir alumni who wished to continue singing together after graduation. The Chorale made its debut performance on Saturday, December 4, 1982 at the Whittier Presbyterian Church, performing Handel's Messiah under the direction of its founder and then Whittier College Professor of Music, Stephen Gothold. Dr. Gothold continues as Chorale Bel Canto's Music Director. The Chorale has grown to include singers from Whittier, Hacienda Heights, Orange County, Pasadena, La Mirada, Hollywood, Long Beach, Claremont, and as far away as Beaumont.
The Chorale presents a four-concert subscription series each year, and performs in various venues throughout the community. Since its founding, it has sung over 130 concert programs in the Southern California area.
In addition, the Chorale performed in Japan in 1994 and at the Hollywood Bowl in 1995 as it joined together with 1,000 singers from America and Japan to sing Beethoven's Ninth Symphony. In 2001, members of the Chorale—along with Whittier College students, alumni, and members of the Imperial Valley Choral Society—toured Eastern Europe and performed selections of American hymns, spirituals, and sacred songs.
Members of the Chorale joined with other American and European singers and again toured Eastern Europe in 2010 and Northern Italy in 2011. In 2013 members of the Chorale joined 80 singers from all over the United States to sing Salute to Valor on July 4th on the deck of the USS Missouri in Pearl Harbor, Hawai'i.
For several recent seasons the Chorale has been augmented by singers from Rio Hondo College, with which it has a formal partnership. For its first 32 years the Chorale was resident on the Whittier College campus and a participant in the annual Whittier College Bach Festival, celebrating its 77th year in 2014.
The Chorale is dedicated to preserving the choral art through the preparation and performance of the great choral/orchestral literature, approached with dignity and integrity, and presented in settings appropriate to the historical style, function, and uniqueness of each individual work.
The Chorale continually strives to heighten the awareness of its mission in the community, to nurture awareness of the musical arts in the community, to broaden its audience base, to increase the monetary support necessary to sustain its artistic goals, and to work with the public schools and business interests to engender participation in and perpetuation of the musical arts.
Chorale Bel Canto Performance History (PDF)
Vision Statement
Chorale Bel Canto will be widely recognized as an enduring arts organization in eastern Los Angeles County celebrating choral music that reaches an audience of diverse cultures, ethnicities, and generations through sustained musical excellence, stylistic integrity, artistic collaboration, innovative performance practices and educational outreach.
Mission Statement
We present choral masterworks and other worthy choral music for the education and enjoyment of our greater community.
Join Us!
The Chorale welcomes new singers throughout the year. Interested singers should contact Dr. Gothold via the Auditions link. All singers are volunteers and come from all walks of life. Please stay in touch with Chorale Bel Canto through Facebook, Twitter, and this website, and join us for our 36th season!